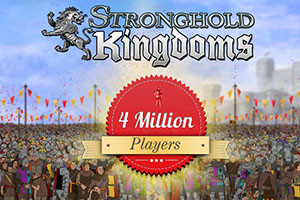 We celebrate the milestone of four million registered Kingdoms players with precious prizes for 100 lucky players!
My Lord, have you heard the astonishing news? The promise of eternal glory continues to increasingly draw in Lords and Ladies from all across the world, amounting to more than four million souls since the start of Stronghold Kingdoms! Four million brave strategists have joined in the hope of claiming a viciously contested throne, taking no prisoners and showing no mercy for their inferior combatants. This growth in Stronghold Kingdoms players would not have been possible, had the word of your victories not spread across the globe in the form of epic poems, inspiring a whole new generation of fearless bumpkins, knights and princes.
To help you fend off this overwhelming wave of fresh and energetic adversaries, we will provide precious prizes to 100 lucky players in our 4 Million Players Giveaway:
• 10 Random Card Packs
• 5 Super Random Packs
• 5 Ultimate Random Packs
• 1 Premium Token (30-Day)
To enter please follow these simple instructions:
1. Go to www.facebook.com/strongholdkingdoms
2. Share the '4 Million Players Giveaway' news post by clicking 'Share'
3. Comment on the post (Remember to include your Kingdoms username!)
4. Like the post by clicking 'Like'
The giveaway will end on Sunday June 7 at 23:59 GMT, after which no new entries will be accepted into the draw. After the giveaway closes, 100 lucky players will be chosen at random to receive the above mentioned prizes and the winners will be announced the next day on Monday June 8 at 14:00 GMT. Don't forget to include your Stronghold Kingdoms username in the comments, otherwise we will not be able to award the prizes to your Kingdoms account!
We wish to thank everyone who has been an active part of the 4 million player strong Stronghold Kingdoms community. As the number of active players continues to grow, so will Stronghold Kingdoms itself continue to further expand and accommodate player requirements and wishes. Beginning with the Stronghold Kingdoms Mac version and the launch of 'Rise of The Wolf', 2015 will not cease to deliver new, unique and exciting content based on your feedback, suggestions and requirements. Remember to follow us for the latest news and announcements!
Good luck!
Source: www.strongholdkingdoms.com