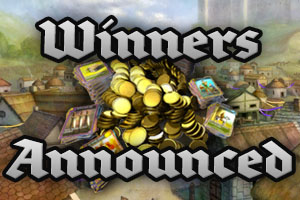 The entire Stronghold Kingdoms community has profited from its four million members, but only 100 lucky players won fantastic prizes!
In celebration of four million registered Stronghold Kingdoms players, we launched a giveaway two weeks ago, giving you the chance to win a set of amazing in-game prizes, including five Ultimate Random Packs.
We thank everyone who has participated by liking, sharing and commenting on our announcement in a true Kingdoms fashion! 100 lucky players have been chosen at random to receive the giveaway prizes and we congratulate the following winners:
DocPorter, tragic_poet, PHATROCCO, ausernameofchoice, MarkJC, Lexonit, mimed, Ru1nat1on, Wraiq, TheBach, Bombg, Raslen, REEFOR, eskkobar, Crazyknight1, RumpledStiltSkin, Shearn, qqqmppp, L-TomeKk, Povelitell777, lllLORD_95lll, rain1993, Niben, RadioChaCha, oksana79, agr.a4h8, KaNSweLL, iDoctor60, StellEast, _Apostol_, __ViTaXa__, kjhl20, Miwgun78, MasterLee91, Joschua12, tigers.post, CrushTheDeaD, Xytaka, DerHerrscher679, Aggro_lucas, X-IceBlackLord98, hotgirl33, Felitsche, hansolo2012, ursulakhamali, Rysiu1, SuperWojtek, ksiaze_Adam_Wampir, dodo33055, szpojan, MetalManiakPL, LORD DIZEL, jakub123439, intex171823, tatakris. Gradziu, WladcaAzet, oskar3393, Hiddensoul, Serkan.kocabas, MrSerkan, amandra123, Kamer-Bey, spyofthegod, KomutanLogar, kont3434, FatihinTorunu, ARKANTOS11, Morthel, Carsino, Abo9, GunS75, guiguitte0, barbicheking, gamms, skilleur, alicanpura, Edwarrd, chrisfra, vincenzo4, Arwenlau, Alely, green_devil, May77, lunisolitaria, dariocapo, Lau_py, pifalvarenga, KennyGamer, Kaldronsan, Lorenita, H U R T S, pappy79, Fask, Tomislav171, Zaytzev, RodrigoBoy267, Diogo Silvestre, Hecatroz, thac2
The above players will receive:
• 10 Random Card Packs
• 5 Super Random Packs
• 5 Ultimate Random Packs
• 1 Premium Token (30 Days)
If you haven't been one of the lucky winners, do not despair! With an exponentially expanding community and new challenges ahead of you, plenty of opportunities for winning in-game prizes will arise in the course of this year. Make sure to follow us on Facebook and on Twitter for the latest news on competitions and giveaways!
Source: www.strongholdkingdoms.com