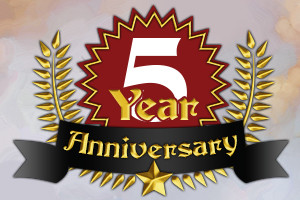 Log in every day for a new free card pack and help celebrate five years of Stronghold Kingdoms! Today Stronghold Kingdoms celebrates its fifth birthday, so this week we're looking back on five years of House warfare, power struggles and strategic ingenuity across 35 game worlds.
As a studio we'd like to extend our sincere thanks to all the brave Lords and Ladies who set up the Houses, alliances and political machinations that brought the world of Stronghold Kingdoms to life.
Free Card Pack
To show our thanks and support players on their path to the throne, we're giving everyone a free card pack every day for the next five days! To claim your Stronghold Kingdoms anniversary gift, just enter the following code in the 'Redeem Offer' section of your Stronghold Kingdoms account page:
Day 1 Code: AAE4-8134-00EA-F1E3
Day 2 Code: B552-C9D4-D76D-B66F
Day 3 Code: 8CDF-2848-DCDC-BE59
Day 4 Code: B840-5CD1-5D5C-6A66
Day 5 Code: A988-7139-7B53-C07A
Don't forget to come back tomorrow! We'll post a new code for a new card pack every day.
Please Note: The above code will expire on Monday 9th November at 10:00 GMT, following the end of the Stronghold Kingdoms fifth anniversary celebrations.
Daily Card Pack Competitions
What's better than a single anniversary giveaway? Daily competitions for the rest of the week! Participate on the Kingdoms Facebook page at 3 pm GMT every day and answer daily quiz questions in the Stronghold Kingdoms forum for YOUR chance to win big. Each competition and quiz winner will get the following in-game prizes:
10 Random Card Packs
5 Super Card Packs
5 Ultimate Card Packs
1 Premium Token (30 days)
Good Luck!
Source: www.strongholdkingdoms.com