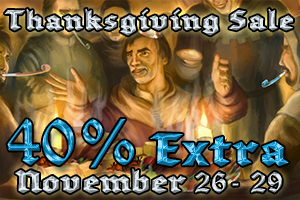 Buy or gift Crowns before Monday 30th November to get 40% extra on every purchase!
Although not all of us celebrate it, everyone can relate to the feeling of retiring to their castle after a tough week to drink merrily and feast heartily. As you dine on a grand turkey roast (Or a vegetarian nut roast, which is every bit as delicious) and plan the downfall of an opposing House don't forget about our annual Thanksgiving Sale!
To aid you and your Faction in the eternal quest for online domination and medieval glory that is Stronghold Kingdoms, we are giving out 40% extra Crowns on Crown purchases for the next four days. The 'Thanksgiving Sale' bonus is now active and will end in four days' time at 00:00 GMT on Monday November 30th.
The 40% bonus applies to all Crown purchases and payment options, including Crown gifting.
Source: www.strongholdkingdoms.com