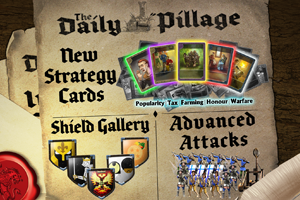 Our August update introduces 20+ new strategy cards, player-requested attack improvements, Shield of the Week Gallery and more!
In another monthly Kingdoms update driven by the community, we bring you a selection of overhauls, improvements and features to help you crush your foes and claim the throne. After reviewing your suggestions in the Feedback section of the official Kingdoms forum, we have made several changes to the game. It is now easier to keep your armies in sight and your enemies at bay with an improved attack overview, oil pot counters, attack sorting and more. The Stronghold Kingdoms deck has also been expanded with the release of new strategy cards, each affecting a different area of gameplay. More than 20 cards have been added including Expert Vinters, Instant Armourer, Expanded Keep Storage, Renown Philosopher and Super Tax 3:
Super Heavy Haulage – Activate a large, long boost to all raw material production.
Expanded Keep Storage – Increase your Keep's storage of goods with this card.
Instant Armourer – Instantly place an armourer for free.
Super Tax 3 – Gain access to an extra three tax bands.
Renown Philosopher – Complete a huge amount of research.
Attack Target Window – See a list of recent targets with this new feature, allowing favourite targets to be added via the world map.
Attack Screen Sorting – This gives players the ability to sort the order in which attacks are displayed, by clicking on the various headers on the top or centre bar.
Shield of the Week Gallery – A new website displaying all historical Shield of the Week winners is now available.
Please refer to our forum thread for a full list of new cards, features and improvements.
Once again we would like to thank everyone who made this update possible by sending in their feedback, suggestions and inspiring us to keep working on Stronghold Kingdoms. As you know, the community continues to play a large role in deciding the kind of new content and improvements that go into our monthly updates. We hope these updates reflect your passion for the future of Stronghold Kingdoms, which you continue to shape. Want your ideas to be included in future updates? Let us know in the Stronghold Kingdoms forum, on our official Facebook page or Twitter account.
Until next time!
Source: www.strongholdkingdoms.com