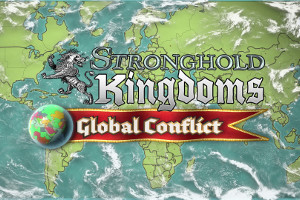 Redeem your Global Conflict offer code for a bundle of in-game prizes!
You did it, sire! When Global Conflict launched on Thursday you recruited your subjects and countrymen, spreading the news of the world map to most far-flung corners of the earth.
In our largest ever giveaway the Kingdoms community worked together, earning the most powerful bundle of in-game items which is available now to ALL players. As of 10:00 BST this morning you have collectively shared the news of Global Conflict more than 12,000 times. By doing so you have unlocking the highest and most exclusive prize tier!
As a result, the Global Conflict offer code now contains:
1 Random Cards Pack
1 Army Pack
1 Defense Pack
1 Super Random Pack
2 Ultimate Random Packs
1 Exclusive Pack
7-Day Premium Token
Here is your code: BA0C-B9FF-7AD2-B3CE
How to Redeem:
Click on 'Account Details'.
Scroll down to the 'Offer Codes' section.
Copy and paste the code into the 'Redeem Code' box and click 'Redeem Offer Code'.
Please Note: You may need to restart your client for the prizes to appear in your inventory. The code can only be redeemed once per account and will be deactivated in just over a week on Tuesday October 20th at 10:00 BST. After this point the code can no longer be redeemed.
We hope you enjoy this small gift as our thank you for waiting for the launch of the Global Conflict. Please use it wisely in your quest toward ruthless global domination!
Source: www.strongholdkingdoms.com