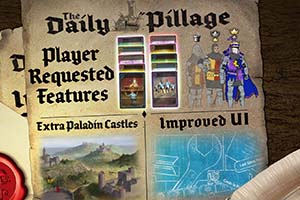 10+ new features requested by players. Includes improvements to card packs, vassal screen, castle construction, Xsolla and more!
Greetings, Sire! After looking through the tremendous amount of feedback given to us by the community, we have put together another gameplay update full of player requested features. Our July update aims to make interacting with Stronghold Kingdoms easier than ever before, streamlining the gameplay experience so that players can spend more time in epic battles and less time in menus. We have done this by introducing an improved user interface, providing more information and also upping the ante with regards to Paladin castles. These new gameplay changes include the following:
Vassal Improvements – The Vassal screen and the Vassal overview now contain more information. This includes user names and village names with links, making it easier to keep your Vassals in check!
Multi Card Display – All cards are now shown when opening multiple card packs, meaning you won't miss the card you're looking for.
More Paladin Castles – The chance of Paladin Castles spawning in your Parish has tripled, bringing extra resources and relief to each kingdom.
Xsolla – This new payment method allows you to purchase Crowns through a wide range of services, including PaySafeCards and BitCoin, from over 50 countries worldwide .
A full list of additions, including the other seven features added this month, can be found in our update thread in the Stronghold Kingdoms forum – http://bit.ly/TQNy6D.
Thank you for providing us with feedback on the game, without your help these community updates would not be possible. If you have similar suggestions you would like to see implemented in the game, please don't hesitate to let us know. We can be contacted through the Stronghold Kingdoms forum, Facebook or Twitter.
Enjoy!
Source www.strongholdkingdoms.com