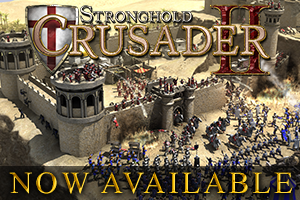 Launch trailer revealed as Stronghold Crusader 2 becomes the number one top selling game on Steam!
Thank You
Thank you for supporting us and making Stronghold Crusader 2 the number one best selling game on Steam. Our first ever independently developed and funded Stronghold game, Crusader 2 was built with your encouragement, feedback and support over the past two years. This is far from the end for the game, with content updates, DLC and patches all planned to follow in the weeks and months after launch, but it gives us great pleasure to say that our strategy sequel is now available on Steam!  Please note that anyone who pre-ordered the game should now have received their Stronghold Kingdoms Power Pack.
Just like you some of us, having worked on Stronghold Crusader back in 2002, have been waiting for this moment for over twelve years now. From the very first day of development it has been an honour to work on this project and we hope Crusader 2 meets your expectations as fans of the first game and the series as a whole.
If you enjoyed spending long nights fending off fiendish AI opponents and friends in the original, Crusader 2 will provide you with everything you need to relive those memories. With two campaigns, six skirmish trails, eight AI characters, co-op, a map editor, free build mode and a selection of multiplayer maps, Crusader 2 delivers the long-lasting challenge you expect from a Stronghold game.
We can't wait for you to try it out.
Source: www.strongholdkingdoms.com