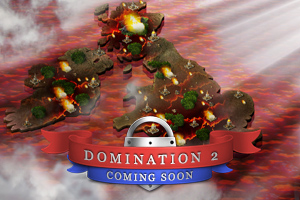 A new type of Domination World arrives June 12th
The rumours that have been silently uttered with a trembling voice by Lords and Ladies across the Kingdoms has now been confirmed: Domination World will return to separate the heroes from the scoundrels. This new World will once again see the bravest and most honourable masters fight for dominance over the Kingdom, their names' immortalised in the chronicles of Stronghold Kingdoms' Hall of Legends.
With new additions to the original fast-paced Domination rule set for gameplay, 'Domination 2′ promises to be even more thrilling and action-packed than the first:
• Capitals will have extra tax levels and generate twice the amount of gold
• Less village charters will spawn the longer the World progresses
• The cost to influence elections is increased to 100 faith points
• Treasure Castles spawn twice as often and can be attacked every 12 hours
• Quests will not reward glory points
• The World will last for 60 days
Fight for your place at the top and win powerful rewards for your achievements. To receive the unique and extraordinary prizes, players must either place in the top ten of any of the leaderboards or be a member of the House with the most Glory by the end of the Domination World. The prizes will be:
• 1 x Platinum Card Pack
• 10 x Ultimate Pack
• 10 x Super Pack
• 10 x Random Pack
• 1x Unique Charge
• Entry into the Hall of Legends
Only attainable by winning the Domination World, the exclusive Platinum Card Pack contains some of the rarest and strongest cards available in Stronghold Kingdoms: Eureka, Expert Castle Designer, Holy Envoy, Expert Protection, Expert Discipline. While using these cards to conquer countries on other worlds, the unique shield charge will let you proudly display your Domination World victory, sending shivers of fear down your future enemies' spines. Additionally, you will be entered into the "Hall of Legends", solely for the brave Domination World champions, honoring your extraordinary achievements for generations to come.
Domination 2 is due to open its gates next week on Thursday June 12th 2014 at 14:00 UTC and close 60 days later, on August 4th. Domination 2 will be open to all players and provide a challenging and engaging experience for new and veteran Lords alike, offering a competitive combat environment like no other World or Age before it.
Good luck!
Source: www.strongholdkingdoms.com