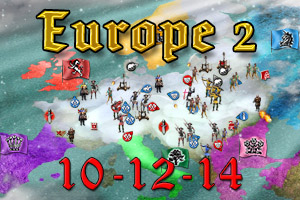 Prepare yourself for another fierce round of European warfare on December 10th by entering our prize draw!
Pack your bags, saddle your horses and prepare to set out on new conquests Sire!
The second Europe server will bring new opportunities, territories and opponents to defeat for the glory of your House.  Are you a farmer ready to rise up and fight back against oppression in the Kingdom?
Join Europe 2 and prove your bravery in the fight for Stronghold Kingdoms' largest map! Perhaps you are a battle-hardened warlord seeking to put down your sword and continue fighting with the tongue of a diplomat? Settle in your home country and use your political finesse to secure one of 33 kingly thrones in Europe 2. Whatever your heart may desire, the virgin grounds of Europe 2 are guaranteed to offer everything a Lord or Lady can dare to dream of.
To celebrate the upcoming launch of Europe 2 we are giving away the below bundle of prizes to 50 lucky Stronghold Kingdoms players!
10 Random Card Packs
5 Super Random Packs
5 Ultimate Random Packs
1 Premium Token (30-Day)
To enter please follow these simple instructions:
Share the 'Europe 2 Giveaway' news post by clicking 'Share'
Comment on the post (Remember to include your Kingdoms username!)
Like the post by clicking 'Like'
50 winning players will be chosen at random after the competition ends at 10:00am GMT on December 8th. These lucky players will be revealed the day before Europe 2 launches on December 9th and each given the above prizes before the launch of the new world.
Instruct your Scribe to mark December 10th in the calendar, milord. On this day at 15:00 GMT Europe 2 will open its gates to anyone willing and worthy of the eternal glory it holds. Use your time wisely, hone your skills and prepare for a head start in the race for the thrones of Europe 2!
Source: www.strongholdkingdoms.com