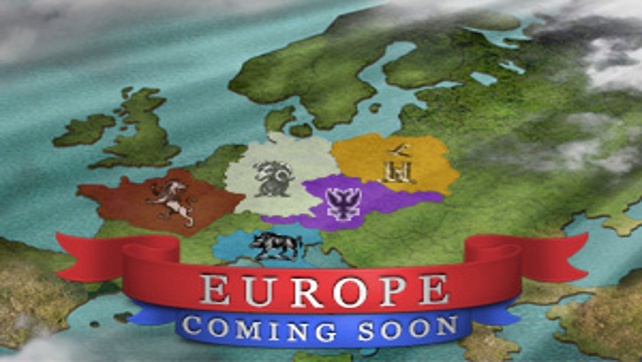 Warfare begins in two weeks on 13th February 2014. Free Card Packs and Premium Tokens to be won on Facebook!
News
We are proud to finally announce 'Europe', our upcoming game world that sets 32 different medieval countries at war with each other in a grand battle royale!
Since Stronghold Kingdoms was released as an open beta back in 2010, it hasn't stopped growing in size or scope and we owe all that to the players. Last year we worked closely with the community, delivering monthly updates filled with suggested features from the game's forum and social media channels. The new European Warfare update adds something players have been asking for a very long time, ever since we began adding game worlds with maps based on Germany, France and other European countries. 'Europe' is a single game world on a grand scale, with 32 countries and all out warfare.
'Europe' is our largest game world yet with more villages, countries and Kingdoms than any before it. Larger than USA 1 and all other game world, 'Europe' contains the following new and existing countries:
Norway, UK, Ireland, France, Spain, Portugal, Belgium, Netherlands, Germany, Denmark, Switzerland, Italy, Austria, Czech Republic, Slovakia, Hungary, West Balkan States, East Balkan States, Greece, Bulgaria, Turkey, Romania, Moldova, Ukraine, Poland, Lithuania, Belarus, Latvia, Estonia, Russia, Finland and Sweden
So get ready to send wave upon wave of timed attacks across land and sea. Although each country will have its own political structure it will still be possible to take over and rule large parts of Europe with your Faction or House. However you must not spread yourself too thin, else the land you do control may well be taken away from you. This new game world is one of the most hotly requested features for Stronghold Kingdoms and something we are thrilled to be able to make live next month. Players can discuss their nefarious schemes in the Stronghold Kingdoms Forum.
'Europe' will launch at 3:00 pm GMT on February 13th, so get ready to fight for your country and rewrite history!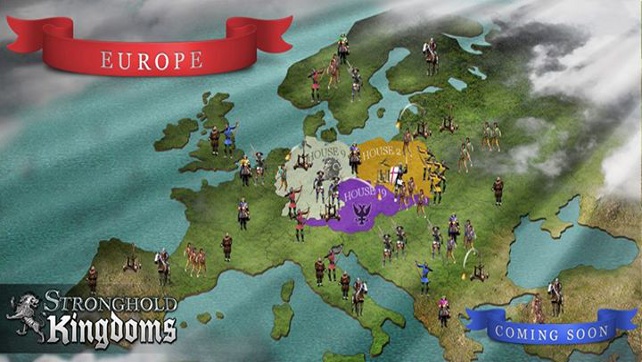 Facebook Competition
Europe World Giveaway
To celebrate the upcoming launch of our 'Europe' game world on February 13th we have decided to run yet another Stronghold Kingdoms giveaway with over 1000 prizes available to win! As a special 'Thank You' for your days, months and years of support we are giving away the following in-game prizes to 60 lucky Stronghold Kingdoms players.
To enter just follow these simple instructions:
Share the 'Europe World Giveaway' news post by clicking "Share"
Comment on the post (Please include your Kingdoms username!)
Like the post
Each winning player will receive:
• 10 Random Card Packs
• 5 Super Random Packs
• 5 Ultimate Random Packs
• 1 Premium Token (30 Day)
Over the course of the next two weeks 60 players will be selected at random from the comments below (Don't forget to include your Stronghold Kingdoms username!) and handed out prizes after the end of the competition. The competition will close at 10:00am GMT on Wednesday February 12th, after which no new entries will be accepted. We will then announce the winners and distribute their prizes later that day at 3pm GMT, just one day before the new world launches.
The new world is yours for the taking…