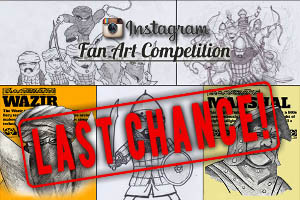 Submit fan art to our competition on Instagram for your chance to win card packs and Steam games!
We're celebrating the launch of our official Firefly Studios Instagram with a competition! We have created the account as a platform to show you the latest screenshots, artwork and archive material for our games, but to get us started we want YOU to inspire us with your awesome fan art. Whether it be a sketch of a slimy Space Colony alien, a regal portrait proclaiming your position in Stronghold Kingdoms, an artistic screenshot of diseased animal warfare or a painting of The Wolf, help make our Instagram the number one source of fan art by taking part!
Enter before the deadline on September 14th for your chance to win an amazing selection of in-game prizes or a Firefly Studios game on Steam! The winners can choose between Stronghold HD, Stronghold Crusader HD, Space Colony: Steam Edition, Stronghold Crusader 2: Special Edition, all Crusader 2 DLCs or a Stronghold Kingdoms Starter Pack (either on Steam or in the client version of the game). The latter includes:
15 x Random Packs
2 x Exclusive Packs
2 x Research Packs
200 Card Points
4 x 7-Day Premium Tokens
The winning images will also be posted on our Instagram, will full credit given to the authors.
How to Enter
Create and publish your fan art on your Instagram account, using the hashtag #fireflystudios.
Email your art and a link to your Instagram account to competitions@fireflyworlds.com before Monday September 14th.
Check the Firefly Studios Facebook page on Wednesday September 16th to see if you've won!
The competition starts now and ends on September 14th, with three winners revealed on Wednesday September 16th.
Follow Firefly Studios on Instagram and never miss out on the latest screenshots, concept art and paintings from our games.
Good Luck!
Source: www.strongholdkingdoms.com