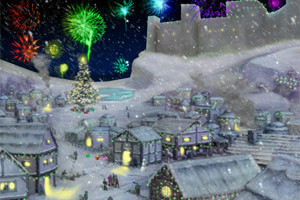 The future of Stronghold Kingdoms begins with a complete redesign for iOS and Android
Morning, your Lordship!
Last year at Firefly we celebrated five unforgettable years since the original beta release of Stronghold Kingdoms on PC.
Kingdoms has grew from a community of thousands to hundreds of thousands of active players, with millions signing up to play over the past half-decade. We're going into 2016 with loads planned for the game, but here's a little teaser of what's coming up:
iOS and Android – A completely redesigned version of Stronghold Kingdoms is scheduled for iOS release early this year in Q2 2016, with an Android version of the game to follow shortly after.
Updates – 2015 saw the release of our 'Rise of The Wolf' and 'Global Conflict' expansions and there is plenty to come in 2016. One planned update we can tease right now is the new 'competitive events system' currently being worked on.
New Worlds – New worlds are coming in 2016! As well as new instances of current favourites we will be revealing new worlds to conquer. The interesting layout and configuration of these new political maps will have far reaching consequences for gameplay!
Support – A new language world has already been built and we're planning more! Full language support will be provided, bugs will be fixed and player requests considered.
Community Events – Expect even more promotions, giveaways, sales and competitions as we welcome in a great new year for Kingdoms!
We hope you're looking forward to another exciting year in Stronghold Kingdoms as much as we are and would like to wish everyone a wonderful new year. Here's to epic House battles, lifelong friendships forged in the world of Kingdoms and countless hard-fought victories.
Happy New Year from everyone at Firefly Studios!
www.strongholdkingdoms.com