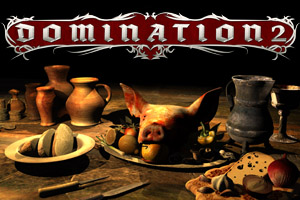 Take your rightful place in the Hall of Legends!
Congratulations to all members of the majestic Beasts of House 14, glorious winners of the challenging Glory Race on Dominate 2! You fought with unmatched fortitude, battling your way through enemy houses in the most face-paced, competitive and brutal PvP environment Stronghold Kingdoms has ever seen.
With a limited time of 60 days, no interdicting and fewer village charters to expand onto, players fiercely battled over every piece of land and every resource from the very beginning. Over the course of 60 days 907 villages were razed, 4.168 villages captured and 1.744.639 packets of goods pillaged in the struggle for Honour, Glory and ultimate victory. In a highly competitive world with a special, fast-paced rule set only 137 players were brave and strong enough to emerge victorious, winning fantastic prizes and a place in our exclusive Hall of Legends – http://www.strongholdkingdoms.com/glory/HoH.php?worldid=2501&age=1
With more than 2,000,000 Glory points ahead of their cowering competitors, the Beats of House 14 dominated their world firmly, however they were not the only winners in Domination 2. All players who managed to secure a firm place in the top ten of any in-game Leaderboards are also counted as winners, in addition to those who were members of the winning House when the world ended. Please note that all Domination World 2 prizes will be distributed next week.
Special praise is due to the high elite, those who demonstrated admirable skills by reaching the top of the Leaderboards. A magnificent task in Domination World 2′s hostile and challenging environment:
Most Points -AoeXe_ReDar – 227,764
Highest Rank -LordSolarMacharius, Crown prince, 5th Degree
Most Villages Owned -LordSolarMacharius – 30
Most Goods Pillaged – Gorgameth – 396,414
Most Invading Troops Killed – Defender04 – 379,764
Most Buildings Ransacked -baegon – 3,327
Most Wolves Killed -Acurron – 174,473
Most Bandits Killed -furman20 – 45,747
Most AI Troops Killed -alibugra – 54,312
Most Goods Traded -lorddart – 267,007
Most Goods Scouted From The Map -skipo2 – 151,022
Most Stockpile Goods Produced (Daily) -LordSolarMacharius – 2,313,751
Most Foods Produced (Daily) -legendary sandy – 14,485,609
Most Ale Produced (Daily) -De Vlaamse leeuw – 1,022,037
Most Weapons Produced (Daily) -Sire Salvagnac – 29,009
Most Banqueting Goods Produced (Daily) -ColdMolder – 294,665
Most Quests Completed -alibugra – 195
Most Capital Donations -Sire Salvagnac – 296,791
Most Villages Captured -SirWilliam88 – 138
Most Villages Razed -Sire Salvagnac – 71
Source: www.strongholdkingdoms.com