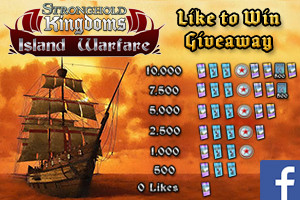 Like our Facebook announcement to win card points, tokens and card packs! Then take to the high seas in our new game world
Free Card Packs & Premium Tokens
To celebrate the first of several major gameplay updates planned for Stronghold Kingdoms in 2016 we're giving away free card points, premium tokens and card packs! This giveaway is for all Kingdoms players, but exactly what we give out is up to YOU to decide.
On Monday February 8th we will post a redeemable offer code to the Stronghold Kingdoms news feed, the contents of which will be determined by you and the wider Kingdoms community.
Want to improve the prize pack? Here's how…
How to Win:
Go to the Stronghold Kingdoms Facebook page.
'Like' our 'Island Warfare Now Live' post.
Tell your fellow players to do the same!
The total number of 'Likes' gained by Monday February 8th at 10am GMT will determine the contents of this offer code. More likes means more prizes!
No likes = 1 Random Card Pack
500 = Above + 2 Army Packs
1,000 = Above + 1 7-Day Premium Token
2,500 = Above + 1 Super Random Pack
5,000 = Above + 1 Ultimate Random Pack
7,500 = Above + 500 card points
10,000 = Above + 1 Ultimate Random Pack
Island Warfare Now Live
Land ahoy! After many a sleepless night at sea, spent devising new battle strategies for unchartered land, an entirely new world has been discovered. 38 tropical islands have been sighted on the horizon and, while we suggest choosing your friends and neighbours wisely, each appears uninhabited and ripe for the taking. Wait much longer and prepare yourself to fight for control of the smallest rock in the ocean, strike now however and you may rise to the top as the King of Island Warfare!
Following on from the release of 'Global Conflict' late last year, Island Warfare introduces completely new gameplay in the form of changing sea conditions. This new feature changes daily and will often either accelerate or decrease the speed of any merchants, monks, troops and scouts to varying degrees, as they travel between two separate islands. You must strategise amongst yourselves and plan ahead to discover new tactics to take and hold individual islands. Control of the sea will also be decided by strategic positions taken at this early stage in the game world. Remember that sea conditions are distinct from existing in-game weather events, as such they won't influence village popularity with their effects limited to movement speed.
Now go and conquer one of 38 tropical islands in the 'Island Warfare' world!
Please Note: To join the new 'Island Warfare' game world players will need to log in, click on the red 'Select Special Worlds' button followed by 'Island Warfare 1'.
Source: www.strongholdkingdoms.com