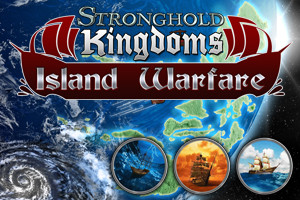 New game world will introduce changing sea conditions and 38 tropical islands!
Island Warfare is the new PvP game world coming to Stronghold Kingdoms, inviting YOU to compete for control of the high seas. Conditions change daily with nine variations including tail winds, rough seas and violent storms either slowing or accelerating the progress of trades, attacks, monks and scouts as they move between islands.
Old strategies, routines and the rhythm of any timed attacks will be rethought, as players adjust to the changing pace of this new game world. Once a unit leaves its village and begins moving toward a target located on a different island, progress across the world map will determined entirely by the current sea conditions and any cards in play at the time. Sea conditions are distinct from existing in-game weather events such as droughts and heatwaves. These still exist on Island Warfare, behaving as they would on regular game worlds.
The new mechanics of Island Warfare represent the greatest shift in gameplay for Stronghold Kingdoms since entering beta. Players will fight for a single kingly throne as they attack, scout and trade across 38 islands, 18 provinces and 99 counties. The first of many new updates in 2016, including a new events system and full mobile release on iOS and Android, Island Warfare kicks things off with the introduction of sea traversal as one of the top player requests. We expect this new update to be released across both the PC and Mac versions of Kingdoms in the next two weeks.
Want to be notified as soon as Island Warfare launches? Sign up to the Firefly Bulletin now!
Source: www.strongholdkingdoms.com