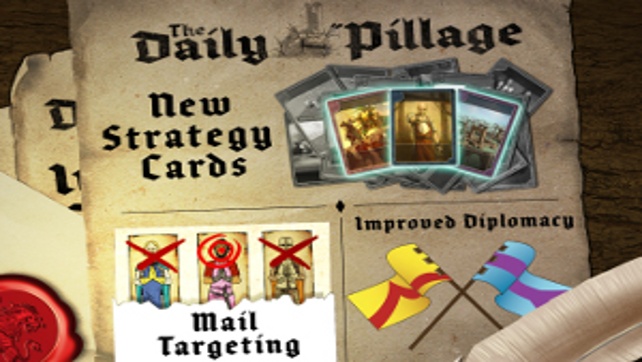 Mail targeting, improved diplomacy and powerful new cards!
The New Year is finally here and to kick start your medieval domination in 2014 we have made our first monthly update available for all players. If you want access to new strategy cards, mail targeting and more all you have to do is run the Stronghold Kingdoms client, at which point the new version of the game will automatically download. As always you can find full details of the new update in our Stronghold Kingdoms forum post, but for now here's a little detail on the new update:
Mail Targeting – Players can now add links within in-game mails to other players and locations. Have a sworn enemy you wish to mark for death? Perhaps you have been eyeing up a particular village and now's the time for you and your Liege Lord to strike! Whatever your purpose, the new mail targeting feature can link your fellow players directly to player profiles, village and parishes.
New Strategy Cards – New cards have been introduced to help tip the balance of power in your favour! Attainable by free players through the Veteran Level free cards system and by paying players through the game's selection of various card packs, these new card affect many different areas of gameplay.
Gameplay Features – We have added the ability to attach notes to diplomacy relations with other players, useful if you ever forget exactly why you're at war! Other features include a card replay button on expired card reports, UI tweaks, shortcut buttons and more.
Want to find out more? Click here for a full list of new features, tweaks and changes.
As always if you have suggestions of your own please visit the "Feedback" section of the Stronghold Kingdoms forum and let them be known. Many changes and additions made to the game over the course of 2013 were made in direct response to community feedback and this is something we will endeavour to continue doing in 2014. Your feedback is incredibly important to us and the evolution of the game, so if you have ideas post them in the forum, tweet us at @SHKingdoms and truly be part of the game's development.
Until next time!