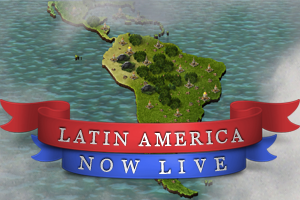 New game world now live and ready to be conquered! Can YOU dominate these lands?
Lords and Ladies now have the opportunity to explore the brand new Latin America World and take control over Kingdoms in Mexico, Central America, Brazil, Caribbean and Cono Sur. With a varying landscape, Latin America offers a wide range of tactical and strategic gameplay opportunities for players from all regions of the Kingdoms. Place your village on the main land and make use of the parishes and players in your immediate surroundings or inhabit a small Caribbean island and see incoming attacks long before they reach your shores…
The real names of towns, cities and regions have been used, allowing players to build their village and castle either near their home town or anywhere they like in the world's five unique countries. This new world will include full Brazilian-Portuguese language support both in-game and on the Stronghold Kingdoms support website, providing technical support to players. A Latin America forum has also been launched, helping players form alliances and created devious strategies
Let battle commence!!!
Source: www.strongholdkingdoms.com