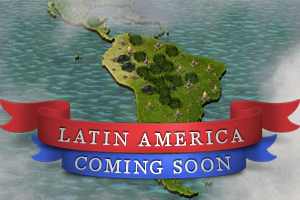 New game world launches on June 6th. Firefly giving away prizes to celebrate!
The new world offers existing players a fresh chance to dominate and begin anew with a clean slate, no political history to weigh them down and a brand new map to explore. There will be space for up to 80,000 villages, to be taken up by unique players, AI opponents, resource stashes and village charters.
Ever since the release of Stronghold Kingdoms in 2010, the game hasn't stopped growing. Every month we reach new players from all over the globe and the time has come to expand our team and game worlds to keep up! Currently we have over 3 million players from more than 100 different countries building castles and attacking rival lords online.
To celebrate the upcoming launch of Latin America we are also giving away prizes to 50 lucky players!
Each winning player will receive:
• 10 Random Card Packs
• 5 Super Random Packs
• 5 Ultimate Random Packs
• 1 Premium Token (30-Day)
To enter please follow these simple instructions:
1. Go to www.facebook.com/strongholdkingdoms
2. Share the 'Latin America Giveaway' news post by clicking "Share"
3. Comment on the post (remember to include your Kingdoms username)
4. Like the post by clicking "Like"
50 players will be chosen at random and each given the above prizes.
We will launch Latin America on Friday 6th June 2014 at 14:00 UTC. Bringing this new world online will not require downtime.
The competition will close when Latin America launches, after this time no new entries will be accepted. We will announce the winners and hand out prizes shortly after, so get sharing, commenting and liking for your chance to win!
Source: www.strongholdkingdoms.com