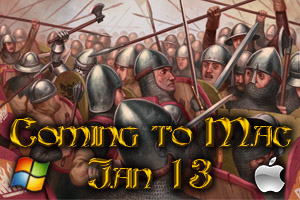 Win in-game prizes as Firefly celebrates Kingdoms' Jan 13th arrival on Mac!
We have truly exciting news, Sire! The Lords of our domain have just announced that Stronghold Kingdoms will soon be available for Mac, making our favorite MMORTS the first of its kind on the Mac App Store. This is important news for all across the Kingdom, given that Mac players will be able to fight with or against PC Lords through cross platform play on day one! Making the various worlds of Stronghold Kingdoms available to Mac players opens the flood gates to new armies and fresh-faced generals, all seeking an opportunity to challenge the status quo and battle alongside their PC brethren against mutual enemies. Come January 13th PC players will want to forge new alliances, win Mac players over to their cause and unite the two platform bringing forth the finest strategists in the Kingdom!
To express our unending gratitude for players' support and to celebrate the upcoming release we are giving away the below in-game prizes to 150 lucky players:
• 10 Random Card Packs
• 5 Super Random Packs
• 5 Ultimate Random Packs
• 1 Premium Token (30-Day)
To enter please follow these simple instructions:
1. Go to www.facebook.com/strongholdkingdoms
2. Share the 'Stronghold Kingdoms Mac Giveaway' news post by clicking 'Share'
3. Comment on the post (Remember to include your Kingdoms username!)
4. Like the post by clicking 'Like'
150 winning players will be chosen at random after the competition ends at 10:00am GMT on January 11th. These lucky players will be revealed the day before the Kingdoms Mac version launches on January 13th and each given the above prizes before the launch of the new port.
A Mac edition of Stronghold Kingdoms has been requested almost constantly by players since the game's launch back in 2010, which means we are even more thrilled to announce our January 13th release date. We know that many Stronghold fans are also Mac users and we won't forget that! We hope that porting Kingdoms and other games to the platform sends the message that we are doing all we can to support fans on all platforms. Stronghold Kingdoms on Mac is our first step towards expanding the game and its player base in 2015. We have updates big and small planned for next year, with new challenges and content on the horizon.
Source: www.strongholdkingdoms.com