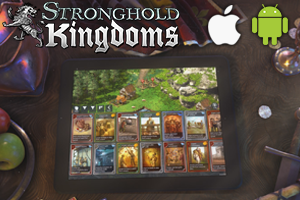 Excited to finally enjoy Stronghold Kingdoms on iOS & Android? Get a feel with the newest gameplay footage and enjoy free cards!
Ever since announcing our plans to bring Stronghold Kingdoms to mobile devices, the community's response has been as supportive as it has been ecstatic – it's time for us to give something back! For the past couple of weeks, Lords from all across the world have flooded our inboxes asking for updates on the project, so today is the first in a series of Q&As and development updates!
Gameplay Footage
You want to know what the mobile version will look like and it's time for us to show you! While we are demonstrating the current build to press at Gamescom, we want to share those same insights with you directly, giving you an exclusive first look at the game through this exclusive mobile gameplay trailer.
We're Almost There!
With over 5 million registered PC players, our mission from the get-go has been to create a mobile version that meets your expectations and provides you with the Kingdoms experience you deserve. Today, we are closer to this goal than ever before! As with all great projects, the secret to success is testing, testing and more testing. In light of this, we are nearing the first public beta phase that will help us the best possible medieval mobile castle experience and allow you to be part of the largest Kingdoms milestone.
iOS vs. Android
As you may remember, we first announced the iOS version to be released, followed by the procession of a version for Android users. Due to heavy and heart-warming demand from the community, we are striving to move the two release dates as close together as technically possible. While an exact release date for either OS is yet unconfirmed, we are actively developing both versions with full focus on a timely and close release.
Free Card Packs
Can't wait for the magic moment of release to happen? Make sure to be the first to know by re-registering for Stronghold Kingdoms on iOS and Android. You'll not only have immediate access to the game upon official release, you will also receive a Kingmaker Pack with plenty of powerful card packs! (This Kingmaker Pack is exclusively created for the pre-registration and can also be redeemed by accounts that have previously redeemed the Humble Bundle Kingmaker Pack)
Get your cards now – http://www.fireflyworlds.com/preregister/
Much, Much More Waiting for You
You have so many questions and we have so many answers! Our mission for the next couple of days and weeks is to keep you as updated and informed as possible, so look out for more news and Q&As.
While we are demonstrating the latest version at Gamescom next week, we did a live Q&A on Stronghold Kingdoms just for you.
Watch the Q&A replay of Nick & Pascal live @ Gamescom here
If you want more than a live Q&A session, don't panic! There will be more videos released in the following weeks, answering all questions surrounding the new design, the current development and the vision of Stronghold Kingdoms' future.
Source: www.strongholdkingdoms.com