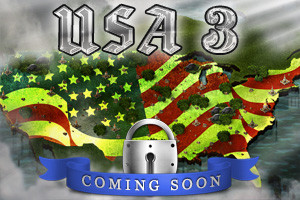 Win powerful in-game prizes by taking part in our world launch giveaway, as you prepare for the journey to USA 3 on July 2nd!
There is a new land on the horizon, one of opportunity, freedom and new beginnings. These fertile lands are untouched by the machinations of silver-tongued politicians and battlefield commanders, whom only the bravest of Lords dare to challenge…
While Factions and Houses on existing USA worlds continue to demonstrate their valour in the brutal fight for Glory, new adventurous travellers are now being offered another path to the crown. To provide these settlers with fresh soil and unclaimed land, we are proud announce the upcoming arrival of a third USA world on Thursday July 2nd.
To celebrate the upcoming launch of USA 3 we are giving away the below bundle of prizes to 150 lucky Stronghold Kingdoms players!
10 Random Card Packs
5 Super Random Packs
5 Ultimate Random Packs
1 Premium Token (30-Day)
To enter please follow these simple instructions:
Share the 'USA 3 Giveaway' news post by clicking 'Share'
Comment on the post (Remember to include your Kingdoms username!)
Like the post by clicking 'Like'
150 winning players will be chosen at random after the competition ends at 10:00am GMT on Thursday July 2nd. These lucky players will be revealed when USA 3 launches the same day at 3 pm GMT and each given the above prizes shortly after the launch of the new world.
Good Luck!
Source: www.strongholdkingdoms.com