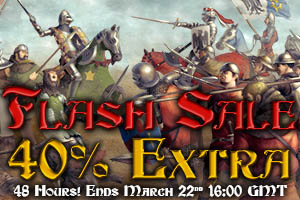 Receive 40% extra Crowns with every purchase for the next 48 hours! Our largest Crowns bonus ever, this offer must end on 22/3 at 16:00 GMT.
Sire, our merchants are reporting splendid news. The furnaces that mint the Kingdom's precious coins have experienced tremendous boosts in production. Lucky for you My Lord, they are now giving away these excess Crowns with every purchase!
Fill up your treasury now by receiving a staggering 40% bonus across all payment methods, Crown packages and Crown gifts! This special offer is available for only 48 hours and must end on March 22nd at 16:00 GMT. Don't miss out!
www.strongholdkingdoms.com