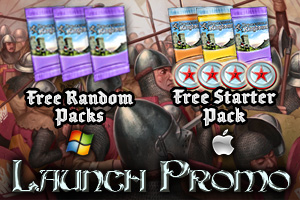 Free Starter Pack for all Mac players who join before 02/14/2015 and Random Packs for existing players who invite them!
We have finally made it, Sire. The fruit of tireless effort and hard labor, Stronghold Kingdoms has now successfully launched on the Mac App Store, bringing the world of Kingdoms to a whole new audience of cunning strategists just like you.
To mark the occasion and our long-requested expansion into new territories, we have released a new Mac Launch Trailer!
Free Starter Pack
To welcome these new Lords and Ladies in a most kingly fashion, any new Mac players who download the Mac version and sign up for an account before February 14th 2015 will be gifted a free Stronghold Kingdoms Starter Pack. This free pack contains a notable set of in-game items worth $19.99, boosting their first steps towards victory as part of their chosen Faction and House.
The Mac Starter Pack contains the following in-game items:
15 x Random Packs of Cards
2 x Exclusive Card Packs
2 x Research Card Packs
200 Card Points
4 x 7 Day Premium Tokens
Free Random Pack
If you are already in the midst of fighting for domination over your country, you can still receive your share of the welcoming gifts by using 'Invite a Friend' to invite new Mac players to Stronghold Kingdoms. Players will be awarded one free Random Pack for each of the first three Mac players they successfully invite into the game before February 14th. To invite a friend simply run Stronghold Kingdoms, enter any game world, select My Account from the top bar and click on Invite a Friend.
Please Note: Invited players must launch the Mac version of Stronghold Kingdoms and sign up in-game for a Stronghold Kingdoms account before the inviting player is granted his or her Random Pack.
While you welcome this new wave of players exploring the worlds of Stronghold Kingdoms for the very first time, we will continue to expand Kingdoms with new content, special worlds and player-focused updates. Our goal for this year remains offering new gameplay experiences for veteran players in line with your feedback and suggestions, while also lending a helping hand to new players as best we can to help the game grow. In the meantime please heed our words, teaming up with these new Mac strategists to find new Vassals, defend your empire and grow the Kingdoms community by inviting friends to join the fight on Mac!
Please Note: You must sign up for a new Stronghold Kingdoms account through the Mac client to receive your free Starter Pack
Source: www.strongholdkingdoms.com