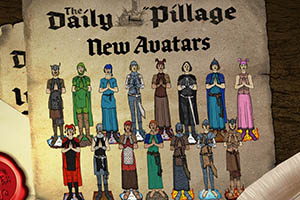 Now live! Adds new Achievements, Achievement levels and more…
Greetings Sire! We have just caught wind of the latest Stronghold Kingdoms update and it appears a host of new challenges await you, Milord. Players have requested numerous additions to the Achievements system, so the Lords and Ladies of Stronghold Kingdoms have now been given both new tasks and higher goals for old achievements. Resting on your laurels is simply not an option when you are aspiring to be the most distinguished ruler in the Kingdoms! Read on for changes to the forest-type Castle screen, a new forest area and more:
New Achievements – Earn the 'Evil Lord' title by nefariously ridding the lands of Paladin Castles or claim the title of 'Treasure Hunter' by salvaging riches from Treasure Castles.
Achievement Levels – 'Double Diamond', 'Triple Diamond' and 'Sapphire' levels now require more skill and enduring when earning your medals, but also rewarding you more generously than ever before.
Achievement Tracker – Players can now view and track their progress for most Achievements by hovering over the medals.
New Castle Screen – Lords and Ladies with forest type villages will now find forests surrounding their castles on the Castle screen.
Extra Proclamations – Governors and Kings are now able to send proclamations more frequently, once every three days.
You can find a complete list of changes, additions and information regarding the updates to Achievements in the official Stronghold Kingdoms forum.
We hope that these additions present Kingdoms players with all levels of experience and progress with new in-game goals, challenges and incentives. The ability to track Achievements in particular has been a player request for some time now, so this feature gives us great pleasure to present to you along with the extended levels and new Achievement types. If you have further suggestions and wishes please do not hesitate to write us in the Feedback section of the SHK forum, on our Facebook page and Twitter, making your ideas part of Stronghold Kingdoms!
Until next month…
Source: www.strongholdkingdoms.com