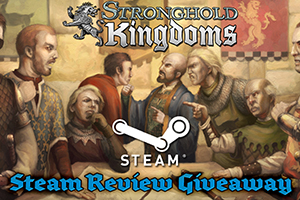 Your feedback has shaped Kingdoms' monthly updates and it is time we gave something back. Enter now and win free card packs!
Thanks to your ongoing feedback in the forums and on social media we have been able to identify Stronghold Kingdoms' strengths and weaknesses, helping us develop each monthly update. As a special 'Thank You' for sharing your opinions, thoughts and concerns with us, we will be giving away the following in-game prizes to 50 Stronghold Kingdoms players who post a user review of the game on Steam in the next week.
We will choose 50 user reviews and give each winning player the following:
• 10 Random Card Packs
• 5 Super Random Packs
• 5 Ultimate Random Packs
• 1 Premium Token (30 Day)
To enter the competition all you have to do is:
1) Log into your Steam account either through the Steam client or in your browser: http://store.steampowered.com
2) Visit the Stronghold Kingdoms Steam store page: http://store.steampowered.com/app/47410/
3) Write and post a user review for Stronghold Kingdoms, including your Stronghold Kingdoms username at the very end.
Over the course of the next week 50 winning players will be selected from the most witty, insightful and constructive reviews on Steam. The competition starts today at 3pm GMT and will close at 9am GMT on 15/09/14, with the lucky winners announced just over a day later at 10am GMT on 16/09/14 and their prizes handed out immediately after. Don't forget to include your Stronghold Kingdoms username at the bottom of your review! If you fail to do this we will not be able to include you in the competition.
Good luck!
Source: www.strongholdkingdoms.com