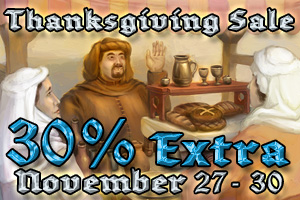 Buy Crowns before Monday and receive 30% extra! Bolster your deck of cards and prepare to fight.
Which castle will YOU reside in this weekend, celebrating a year of fruitful harvest and the spoils of war in and beyond your Kingdom? Although there are no turkeys to be farmed or stashes of gravy to be scouted out on the fields, players can now plot the downfall of their opposing House by taking advantage of an extra 30% bonus on all Crown purchases, active for the next four days!
Effective immediately, all Crown purchases made between November 27th at 00:00 GMT and December 1st at 00:00 GMT will be topped up with 30% extra Crowns. Please note that this offer extends across all payment methods and also includes Crown Gifting!
Happy Thanksgiving