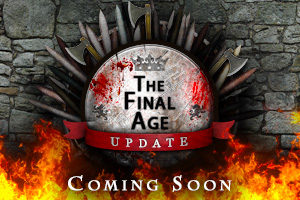 A Kingdoms endgame, new updates and a redesigned mobile version. We reveal our plan for all game worlds!
The Final Age
Once the Sixth Age Glory Race comes to an end on a world, said world will then enter its Final Age. In this age a single House of players must conquer and capture all Royal Towers, a new PvE target on the world map, before the House Marshall decides whether or not to press 'The Button' and close their world forever! Select players are then rewarded with 'Royal Loot' prize tiers, based on their rank and position at world end.
New Ruleset & Gameplay
Endgame will activate when a world enters the Final Age, with world end controlled entirely by the players.
The Final Age begins with 150 Royal Towers on the map.
'The Button' is visible to all players, but can only be pressed by the Marshall of the House that controls all towers.
Pressing 'The Button' ends the world, determining which players claim each reward tier.
The Glory Race has no end and Houses are no longer eliminated.
The first House to reach 1 million Glory points wins the Round and gains a star.
After each Glory Round, towers respawn and tower control is reset.
Each Round brings the number of towers down by 10, with a minimum of 20.
A new Royal Towers tab will be added to the Glory screen.
Capital guilds can now be upgraded an additional five levels.
No new players may join this game world. Only those who previously had a village on this world may enter it.
Royal Loot Prizes
Prepare to win the greatest ever loot haul in the history of Stronghold Kingdoms!
Gold: Members of the House with the most stars at world end will receive the Gold prize pack featuring rare cards, Ultimate Random Packs and more!
Silver: Members of the second to fifth placed Houses in the Glory Race will receive the Silver prize pack featuring 3k Card Points, rare cards and more!
Bronze: Players who fail to qualify for Gold or Silver prizes and are ranked Prince or above, with at least one village in the world, will receive the Bronze prize pack featuring research packs,  3 30-Day Premium Token and more!
Ultimate: In addition to their Royal Loot prize, members of the House which ends the world will receive the Final Victory Ultimate Champion Prize!
The Future
New features and updates are in active development:
New Features – Exciting gameplay changes are planned for Kingdoms in the form of future feature updates.
Events System – A new in-game events system will offer global PvE and PvP challenges for all players, with rewards for those who rise to the challenge.
iOS and Android – Our redesigned mobile version of Kingdoms is set for a late summer release on iOS and Android devices.
New Worlds – Extra worlds and world types will be introduced to gradually replace those closed by winning Houses.
Source: www.strongholdkingdoms.com