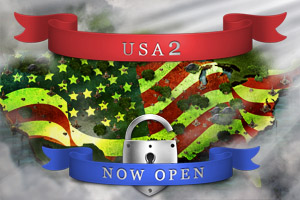 USA 2 opens its gates while the new world giveaway winners are announced! Head over to Facebook to see if it's your lucky day…
Players from all across the Kingdom are invited to start their adventurous First Age journey through USA 2, one of the largest maps in Stronghold Kingdoms. Join thousands of other settlers seeking control over an untouched piece of American paradise and battle your way to glory, making the most of what the land has to offer along the way. Grow your population, raise an unstoppable army and seat yourself on one of 11 in-game thrones.
With USA 2 now live, our new world competition had closed and no new entries will be accepted. We would like to thank everyone who participated by sharing, liking and commenting on the USA 2 Facebook announcement. You have once again demonstrated the strength of the Kingdoms community. We have just announced our 50 lucky winners on the Stronghold Kingdoms Facebook page, who will receive their prizes shortly.
Fair conquering, My Lord!
Source: www.strongholdkingdoms.com