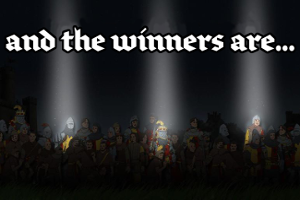 Winners announced for our first ever Stronghold Kingdoms Video Contest!
As promised, today we are proud to announce the three lucky winners of our video contest. It has been a hard decision given the sheer volume of videos received over the past two weeks, as such we would like to thank each and every one of you for your hard work. Each video we've received was unique, fascinating and a winner on its own, but there can only be three…
The Jester
PataPalo, "PataPalo Video Stronghold Kingdoms Contest" – http://bit.ly/shkjester
The Herald
Bolz00, "Stronghold Kingdoms Tutorial Deutsch/Germany World 3" – http://bit.ly/shkherald
The Bard
0Martin0, "Krótki filmik o stronghold kingdoms" – http://bit.ly/shkbard
Congratulations to the winners! These players have created the most entertaining, informative and well produced videos, demonstrating a high level of creativity, ingenuity and passion for Stronghold Kingdoms. To reward them for their efforts, they will receive fantastic in-game prizes and an exclusive interview with someone from the Firefly Team! All winners will be contacted via email over the course of the week.
Due to the difficulty of picking a winner and everyone having done a great job in creating a video, we are giving 5 Random Card Packs to all participants for their hard work. Thank you to everyone who has sent us their video!
Didn't manage to enter this time? We've got a lot more competitions and giveaways planned for Stronghold Kingdoms, so stay tuned for further announcements. But for now, enjoy the videos!
Source: www.strongholdkingdoms.com