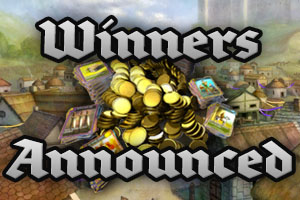 Are you one of 100 lucky Lords & Ladies to claim the incredible 'Welt 4′ Giveaway prizes?
Two weeks after launching Stronghold Kingdom's newest German game world 'Welt 4′, thousands of players are eagerly fighting for the thrones of Germany, Austria, Czech Republic and Switzerland! Your reception of the new world extended beyond the battlefield and spread to Facebook, where you plentifully shared, liked and commented on the announcement of the world's launch. As a Thank You for your continued support, we have chosen 100 lucky players to receive our fantastic 'Welt 4′ Giveaway prizes.
Congratulations to the following winners:
Amirking30, RycerzBezMiecza, nacauhitoet, Lungenhunger, Guihum, BlueScorpion, Ikraam, Zeusidious, ThugBH, Halden, Lord_of_Angmar, ZapDragon1, RovenKursk, Lowena, PitchBlacKK, Sharly55612, micha9999, qwererik, murik06, eepok, Thomas_Kent, Gorodno, Vampire_Blood, Khamyak, P a n d a, Dyuwa1113, Deathstrok, walera1234, karabaslord, minikos, BillyDogBons, DEADfrost, Afro Zebra, LordHige, Oberfeldzwiebel, Lungenhunger, Bohnemarkus, RosesOakie, Gallidor, Duesterwaldszier, Sire Dom231, Baldur183, derchrissi, Punchd, zetrick93, Tommywhyle, Nudelritter, Filethy, Link556, NaturalV, SoNuS, florker999, Lukster26, Brandixy, Daw83x11, MisioBomba, Mamucik, urqel, Siwy8829, ArriePL, NEW OTTO, efendiol, desetrom94, sinyoras, vcitoit, Regerind, isot2002, Karakal78, 21Efe21, M_E_H_M_E_T, B_Coban3,
TOUTOUNE, r3wy, Quetz, Geronimofr, Rivh, CraZyZz38, Freled, Necro Cruor, Amirking30, Skatalitiiko, Maria Victoria, Badom, jblanco79, coss2612, Chico DK, Li0sT, alvarojoselopez, kinterpool, sthell666, SirLori, rewind92, Robik90, Bennet90, MarcosRabelo, Sifnap, Ismael III
The winners will receive their prizes later today and can find them in the respective sections of the Cards Screen.
Didn't win this time? Don't despair, we have many more giveaways, competitions and special events planned for you in the coming months! Make sure to check our Facebook and Twitter feeds regularly to not miss out on the latest details on upcoming game worlds, updates and new features, such as last week's teaser of our next Stronghold Kingdoms surprise: http://on.fb.me/17UVmuI
Source: www.strongholdkingdoms.com