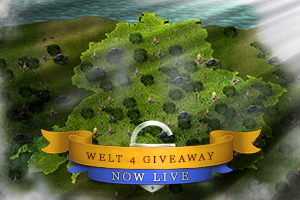 'Welt 4′ opens its gates for all players with a chance to win fantastic prizes!
The new German Welt 4 has just opened for all Lord and Ladies in the Kingdoms and invites strategists of all calibres to conquer its untouched landscape. Settle close to your home or explore new cities, spread your influence across the boarders of Germany, Switzerland, Austria and the Czech Republic and watch as your name is eternalized in history.
To celebrate the start of the new German world, we will be giving out the following prizes to 100 lucky players:
• 10 Random Card Packs
• 5 Super Random Packs
• 5 Ultimate Random Packs
• 1 Premium Token (30-Day)
To enter please follow these simple instructions:
1. Go to www.facebook.com/strongholdkingdoms
2. Share the 'Welt 4 Now Live: Giveaway' news post by clicking 'Share'
3. Comment on the post (Remember to include your Kingdoms username!)
4. Like the post by clicking 'Like'
100 winning players will be chosen at random after the competition ends at 10:00am GMT on February 24th. These lucky players will be announced on February 25th and each given the above prizes soon after.
Additional to the expansion of existing maps in Kingdoms, we have many new and exotic worlds with their very own gameplay rules planned throughout the year, largely inspired by your wishes and suggestions. Should you still have ideas for special worlds, please share them with the community by posting in the Feedback section of the official Forum and help us mould the game according to your visions.
Good luck!
Source: www.strongholdkingdoms.com