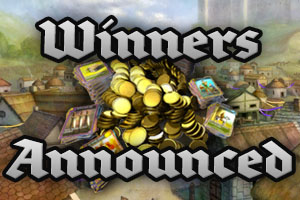 Are you one of 25 lucky #FreeGameFriday winners to receive a bundle of card packs?
Earlier this week we asked you to join forces and participate in Stronghold Kingdoms' largest Twitter giveaway yet – today we are rewarding you with exclusive Kingdoms codes! Several hundreds of you have retweeted our #FreeGameFriday tweet and we have randomly picked 25 lucky winners to shower them in Random, Super Random and Ultimate Random packs. Congratulations to the following Twitter users:
@tujhonnysilva
@AlejandroMtzCal
@ElMokadem95
@AlexKucevol
@abizarg5
@ozgurcankorkmaz
@ir4ikk89
@WojciechBana
@ojopelao22
@MisterTsFTW
@Deutschfin
@mertakts
@TheSolenOne
@DenisGumenyuk
@Raiversons
@TyT_OH_XoMoH
@JoshreynoldsC10
@eclipse129
@KaryaFomik
@rshindig
@tsar_ru
@PaoReyes13
@VMAEvans
@Spaceacebuc59
@Mytrik19851337
The prize codes will be distributed via Twitter's direct messaging system, so make sure to check your Twitter account if your profile is listed above.
Didn't win this week? #FreeGameFriday will return soon, giving you another chance of winning either card pack codes for Stronghold Kingdoms or even Steam codes for some of our other Stronghold games, including the Stronghold Crusader 2 Special Edition! Make sure to follow our Firefly Studios channels on Facebook & Twitter for the latest news on giveaways and competitions.
Source: www.strongholdkingdoms.com