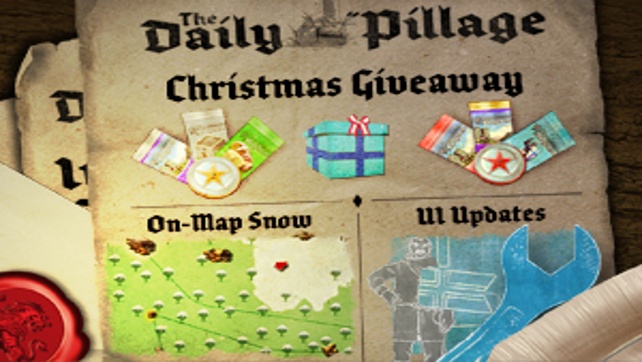 Log in daily for a chance to win free Card Packs and Premium Tokens!
Last week's client update for Stronghold Kingdoms brought with it a number of new UI tweaks and features, as always based on community feedback. Today on-map show arrives and the yearly Kingdoms Christmas Giveaway returns!
To send 2013 off in style we have given all players access to the new and improved Christmas Giveaway. As a massive "Thank You!" to the Kingdoms community for their years of support and fantastic gameplay suggestions we have made all Card Packs, including newer Super and Ultimate Packs, and Premium Tokens winnable in the competition. The giveaway will run from today until December 25th, on which day everyone will be guaranteed a prize if they log in and click on a door.
Here's what you need to do to take part:
1)       Log in to Stronghold Kingdoms once a day.
2)       Click on one of nine advent calendar doors.
3)       Click on a second door if you don't win the first time.
4)       Come back the next day for another chance to win!
As an added bonus winter has also come to the various game worlds of Stronghold Kingdoms, with a blanket of snow thrown over the world map. Login and you will see areas of heavy snow, festive trees and animated snowfall, which can be seen until January 2nd 2014. Please note the snow is purely cosmetic, as such it will not affect gameplay. It can also be turned off if you get too cold.
Happy Holidays!