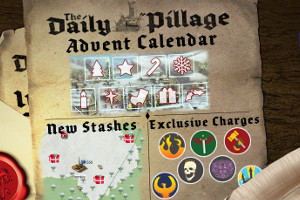 Christmas comes early! Enjoy your presents ahead of time by opening the new Stronghold Kingdoms Advent Calendar
As the nights grow longer and the sun creeps over the horizon of Global Conflict the Lords and Ladies of the kingdom can finally rejoice, Christmas has come to Stronghold Kingdoms!
Dive into a winter wonderland, search the globe for precious treasures and plunder the new Stronghold Kingdoms advent calendar for heaps of card packs and premium tokens!
Exclusive Charges and Free Card Packs
Who needs chocolate or an overpriced phone when you can bask in new exclusive shield charges, free card packs and the resulting screams of terror from neighboring villages? Log in daily for your chance to win any of the Stronghold Kingdoms card packs and premium tokens, including Super and Ultimate Random packs. Remade and upgraded from last year, the NEW advent calendar also allows you to collect daily stamps, eventually unlocking exclusive charges to use as your coat of arms design in-game.
Here's how it works:
Log into Stronghold Kingdoms once a day.
Click on one of nine advent calendar doors.
Try a different door if you don't win the first time.
Click to collect today's stamp.
Come back tomorrow and do the same!
Christmas Scout Stashes
As of today we've made it snow in Stronghold Kingdoms! You will now find all corners of each game world covered in a soothing layer of fresh snow and the maps have also been showered with delicately wrapped presents! To spread the spirit of Christmas across the kingdom new resource stashes now appear in the form of Christmas presents, rewarding the first to find them. Every Christmas stash you uncover may gift you a precious Wheel Spin before transforming into a regular stash of wood, meat, ale or another much needed resource. So if you have little luck in the daily calendar, be sure to send out your scouts before your neighbors do!
Guaranteed Prize
The snowy landscapes and special present resource stashes will decorate Stronghold Kingdoms until January 1st, while the advent calendar promotion will end after December 25th. Chances of winning card packs and premium tokens will depend on your luck… That said with two chances every day and a guaranteed prize for those who log in on Christmas Day, not one farmer, trader or warlord should remain empty handed by the end of the month.
So log in, have your scouts ride through the fresh snow and celebrate Christmas with a towering stack of powerful strategy cards!
Happy Holidays!
Source: www.strongholdkingdoms.com