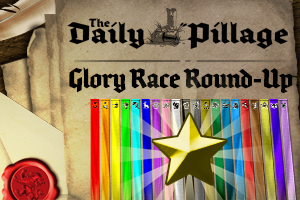 In a feat of unrivaled bravery, House 18 overtakes The Wolf and claims victory in the first Glory Round!
Unbelievable, Sire! We strongly feared that this moment would not present itself within our lifetime, but as always we have underestimated your wisdom, strength and courage. Faced with the biggest threat of our world, you have united in the fight to reclaim the land from The Wolf, The Pig, The Snake & The Rat and freed the oppressed inhabitants from a brutal tyranny.
While the Kingdoms have not yet been completely cleansed of these evil forces, the Glory Round victory sparks the flame of hope among the population and lights the flame of a hopefully blazing revolution.
Congratulations to the fearless Sinners of House 18 who have overtaken The Wolf and his companions in the quest for Glory, claiming victory in the first Rise of The Wolf Glory Round! To reward Kree Gor and his followers, all members of House 18 receive this wonderful set of Glory Round prizes:
1 x Platinum Pack
2 x Ultimate Random Packs
3 x Super Random Packs
5 x Random Packs
Use these prizes wisely, The Wolf has no reputation for forgiveness. Fortify your castles, guard your goods and prepare your forces as The Wolf surely soon sets out for his raging revenge. The people of these islands are now counting on you as their protector, don't let them down!
Source: www.strongholdkingdoms.com