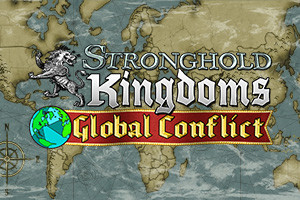 Secure a foothold on a tiny island or rule over entire continents in our upcoming 'Global Conflict' update!
'Global Conflict' World Map
Later this week our new 'Global Conflict' world map will allow players to do battle across a sprawling medieval map of the earth, with 151 countries in one massive game world! True grand strategy is coming to Stronghold Kingdoms with the arrival of this new world map and we can't wait to see the strategies and political machinations that unfold over the coming weeks and months.
The number one requested feature by players since the release of our first 'Europe' game world, the Global Conflict map opens up completely new strategic possibilities for all players from newbies to end-game veterans. Our largest game world ever, Global Conflict contains over one hundred different countries populated by thousands of real world players. Each has their own agenda, goals and moral compass, so be careful who you trust and make peace with… Remember all it takes is one silver-tongued officer among your ranks to bring down an entire Faction or House!
The 'Global Conflict' world map will launch on Thursday 8th October at 3pm BST.
World Playback Feature
World playback is a new feature the Kingdoms team have been hoping to introduce for quite some time! Accessible after the update via the Glory screen, world playback allows players to view the history of entire game worlds either automatically at various speeds or via a manual slider. This new tool provides players with a time-lapse of the game world, colour-coded to depict the territorial control of Houses at a country and province level.
Mac Improvements
On Thursday an update will also be released via the Mac App Store for the Mac version of Stronghold Kingdoms. This update introduces performance improvements for the game, which from a player perspective means a faster and more consistent game speed. We have also fixed issues related to window resizing.
Please Note: To join the new 'Global Conflict' game world on Thursday at 3pm BST you will need to log in, click on the blue 'Select World' button, find the Global Conflict game world and click 'Join'.
Source: www.strongholdkingdoms.com