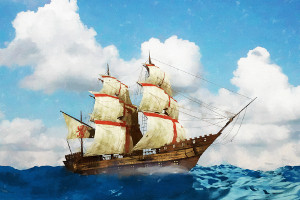 Redeem the 'Island Warfare Giveaway' code before Monday 15th February to claim YOUR bundle of in-game prizes! You did it, Sire! When Island Warfare launched on Thursday you recruited your soldiers, neighbours and countrymen to spread the news of this new world.
Word has travelled far and, by working together as a community of Lords and Ladies, you've earned yourselves a mighty bundle of in-game items that is now available to ALL players. As of 10:00 GMT this morning, you have collectively Liked the news of Island Warfare more than 8,000 times across all nine territories!
In doing so you have now unlocked an offer code containing the following prizes:
1 Random Card Pack
2 Army Packs
1 7-Day Premium Token
1 Super Random Pack
1 Ultimate Random Pack
500 Card Points
Here is Your Code: 3D26-6CAE-AE04-835E
How to Redeem:
Log into the Kingdoms client or website
Click on 'Account Details'
Scroll down to the section titled 'Offer Codes'
Paste the code into the 'Redeem Code' box and hit enter
Find your prizes in-game in the 'Card Packs' and 'Premium Tokens' sections of the card screen
Please Note: You may need to restart the Kingdoms client before these prizes appear in your inventory. This code can only be redeemed once per account and will no longer be redeemable after Monday February 15th at 10:00 GMT.
We hope you enjoy this small gift as our thanks for celebrating the launch of Island Warfare. Please use the packs, tokens and card points wisely as you fight for the only throne on this new and exciting landscape!