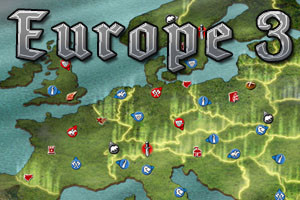 150 lucky Lords and Ladies win splendid in-game prizes as Europe 3 opens its gates!
Stronghold Kingdom's largest map once again opens up to all adventurous and aspiring conquerors who seek to establish an uncontested rule on 'Europe 3′. A total of 33 different kingdoms await you, reconstructed from the real-world map of Europe and waiting to be seized by your mighty armies and silver tongue. Settle near your home town, forge unbreakable alliances with your neighbours and set out to take control of the lands of Europe, one throne at a time!
To celebrate this exciting launch, we have picked the winners of our Europe 3 Giveaway. Overwhelmed by your massive response to the announcement of our upcoming game world, we have decided to triple the number of randomly-chosen winners in the giveaway from 50 to a total of 150! We thank everyone who has spread the word of 'Europe 3′ through sharing, liking and commenting on our Europe 3 Facebook post and are happy to announce and congratulate the 150 lucky winners:
jfijen, McMax The Great, honvik, soangry12, Vigmundr, Lexonit, DJMATHAN, DontBeaWuss, MasterVasch, JadeforestFox, THE-SEEKER, AliyouRush, GabiMiha, Andy3245, Kralj Luka, Zeyle, dejdragoon, electric.avenue, GORKY_LT, SpitfireSam, Sir_Schio, BriskMato, toadspit, oogekko, merpman2001, Kemikalz, Keramzit, Manya4ka, Vetovt, TARANU, fanktastik, Nikki-Dee, Avatarx6, masici, Lorddarkius, chicharitos, Agamemmon, Aleksreid, Lex_90, Monster_Beatsx360x, Ziggy Stardust, wolf-killer, Samjan, sparkl, Allabai, monks81, Creatoriny, Tigrus_Cobalt, Felguard74, CrushTheDeaD, Sire Dom231, LordZwergerl, Rayvern, GoIDAce, A_Touch_of_Evil, Lordh121arper, Der Fluch, WalkingDead14, Uthred von Bebbanburg, alexander von döner, King Superberti, SnopLP, Baronso1432, Duesterwaldszier. pickup187, Wurfbakterie, Traumfee, siemaeniu777, Phrias, rafalx1, Pasjonata, SevetPL, jurek56, marcin87191, _Rainox_, Jarecky343, Dew3100, Pan Marchewa, Guta, Daxter PL, jerzolso, cerber487, Vookash, Exec21, WilczaHusaria, NEW OTTO, KomutanLogar, sabriii37, wahsikunduz, Wacky, hyunj, martinn, ahmetensar, yunus1234, isot2002, TORAMAN147, ResqueL, Maqenna Flame, mirsat24, Twist15, Mete han, fatihsultanselim, Komediyenn, steph le chevalier, Skydo60, icepurple98, Goigrime, Reishi Ryusuke, mickael corleone03, sensei57600, SnakeDz, Urban_Destroy, tigre_blanc, ls60170, ulekin, Seigneur Barington, Homega, Carnage14, kyzon, m200, Mieuxdja, Master Cheeseto, Suavitel, ssabin, jblanco79, Chalito, bigotes, elgaff, Palomes, alvarojoselopez, LUAPQ, rosi1965, Sir Cephalopoid, condedu, RichardPerezN, Diego220599, AlBusgat, doppiagolf, pappy79, Cor3y, LordKensis, Ady77, aftercast, Elminster_cs,  Lancillotto97, sthell666, Mad Mad Dog, Andrel216, THAC2
The above players will soon each receive:
• 10 Random Card Packs
• 5 Super Random Packs
• 5 Ultimate Random Packs
• 1 Premium Token (30 Day)
Flock onto the virgin European lands, grow your humble town to a booming empire, squash your foes, march steadily towards the throne, and settle down as the ultimate ruler of Europe!
Source: www.strongholdkingdoms.com