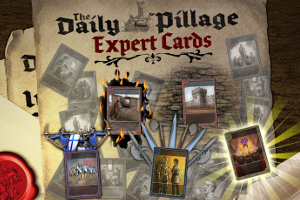 20 all-new strategy cards added to the Stronghold Kingdoms deck!
Today's update brings with it new opportunities for the Lords and Ladies of Stronghold Kingdoms, adding a range of new strategy cards to the Kingdoms deck.
Impacting nearly all aspects of gameplay, these new and more advanced cards have been designed to appeal to all types of player.
Everyone from farmers and protectors to diplomats and warlords should be able to find a card to suit their needs, advancing their cause in the game. Boost the production of banquet goods, protect your villagers from barbaric invaders or quickly prepare them for battle with these new cards:
Expert Fine Attire – Provides a large boost to the amount of silk delivered to your keep.
Expert Protection – Increases the length of any protection placed on a parish.
Expert Guardhouses – Place a greater amount of defending troops in your castle.
Expert Stone Structures – Boost your stone towers and gatehouses with extra resistance to attack.
Instant Blacksmith – Place a Blacksmith instantly and for free.
A full list of the new cards and their effects can be found in the official Stronghold Kingdoms forum.
Players can attain these new cards from the various random cards packs, specialised packs and for free by uncovering Veteran Level cards, certain cards can also be purchased with card points.
We hope you make the best use of these powerful new strategy cards and look forward to hearing your feedback. Let us know what future cards and feature updates you would like to see on Facebook, Twitter or in the above forum thread.
Source: www.strongholdkingdoms.com