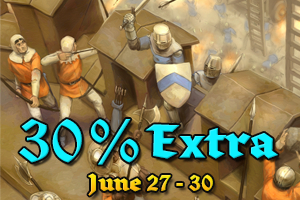 Buy Crowns now and receive a 30% bonus. Bolster your defences, speed up trade or crush your enemies with four days of extra in-game currency!
Are you in the midst of re-designing your village or castle? Does your mighty army need that extra boost to arrive on the battlefield before sunset? Well you're in luck! All Stronghold Kingdoms players who buy Crowns before 14:00 Game Time (GMT) on Monday 30th June will be given an additional 30% bonus to all Crown purchases, giving everyone more Crowns to test new strategies and fight for the throne.
Fill your treasury for future wars or use the opportunity to show your appreciation of allied players, by sending them a gift of Crowns in return for their fierce loyalty and support. All Crown purchases made between 14:00 GMT today and 14:00 GMT on Monday June 30th will receive a 30% 'Flash Sale' bonus on top of the existing Royal Bonus. This offer is available across all payment methods and services.
Enjoy!
Source: www.strongholdkingdoms.com