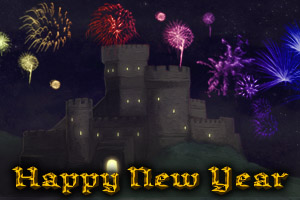 The battle continues in 2015! Beginning with a brand new platform, Kingdoms will expand through unique updates, competitions and new worlds.
An extraordinary year in Stronghold Kingdoms has now come to its end, with a plethora of new worlds once again expanding the game beyond our original vision. Players from all corners of the Kingdom fought to the very last House, with Lionheart and Beasts proving themselves respectively in the bloody arenas of our original Domination and Domination 2 worlds. A new continent was explored by native players and foreign travelers, with the launch of 'América Latina' in June. Meanwhile European warfare continues to rage across both 'Europe' worlds, which greatly expanded the scale of warfare in Kingdoms. To help you fight off the hordes of incoming Mac players we added Treasure Castles to shower you with riches and our new and improved Christmas giveaway, to sweeten the deal.
We have exciting plans for Kingdoms in 2015, which already promises to deliver a wide range of updates based on community feedback, new worlds and a special surprise early in the year that will offer new gameplay:
New Gameplay
'Domination' marked the beginning of several unique game worlds for SHK and we have even more planned for release this year. With objectives evolving from the PvP combat of Domination and epic scale of Europe, new worlds will mix up gameplay and even pit players in an epic battle against legendary enemies. Players, Factions and Houses will have to unite, should they hope to overcome the obstacles put between them and the glorious prizes that await our victors! Kingdoms will also continue to expand its borders, bringing you new worlds, territories and battles on an even larger scale.
New Platforms
As an intense online strategy game played by individuals from all walks of life, it would be a disaster if Kingdoms was not also available on more platforms. Many Stronghold and RTS fans get their gaming fix on platforms other than PC and launching the Mac version of Kingdoms on January 13th is our first step towards uniting these strategists on the same online battlefield! With Kingdoms on Mac we are expanding the game's accessibility, while also inviting new players and their armies into existing game worlds. Thanks to our commitment to cross-platform play, more platforms means more eager Lords and Ladies for you befriend or conquer!
New Features
A large part of Kingdoms' development in 2014 was influenced by your feedback and the process of turning community suggestions into live features is something we will continue in 2015. With an even greater focus on creating new features and content based on player feedback, we are eager to hear your suggestions for the continued development and expansion of Stronghold Kingdoms. Influence the design of Stronghold Kingdoms right now by posting your ideas in the official forum and help shape the game in 2015!
We are looking forward to another fantastic year ahead and would like to wish all the Lords and Ladies in the Kingdom a wonderful new year full of hard-fought victories, lifelong friendships and unforgettable battles.
Happy New Year!
Source: www.strongholdkingdoms.com