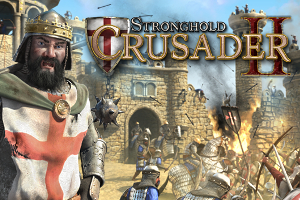 Pre-purchase Stronghold Crusader 2 on Steam and receive 10% off,  a free Stronghold Kingdoms Power Pack and more!
Pre-orders are now open for Stronghold Crusader 2 and as an exclusive offer for Stronghold Kingdoms players we are including a new Stronghold Kingdoms Power Pack on FREE with every pre-order on Steam:
Stronghold Kingdoms Power Pack
10 Random Card Packs
5 Super Random Packs
3 Ultimate Random Packs
200 Card Points
1 x 30 Day Premium Token
The Steam Power Pack gives you access to some of the rarest and most powerful strategy cards in the Stronghold Kingdoms deck. Ideal for players looking to crush their enemies and secure that vital foothold online, this unique selection of card packs gives you a greater chance of securing Diamond and super rare Sapphire level cards such as Expert Chivalry and Ancient Farmer. Hand pick specific cards for your deck with 200 Card Points and play in Premium Mode for 30 days with access to build queues, automated scouting and advanced trading.
In addition to the Power Pack, fans who pre-order our castle sim sequel on Steam, the Humble Store and other digital retailers will also be rewarded with the following bonus content:
Standard Edition
10% Off Launch Price
Exclusive Mini-Campaigns: 'Justice' and 'Freedom Fighters'
10 Exclusive In-Game Shields
Special Edition
'The Art of Stronghold Crusader 2′ Digital Art Book
Digital Soundtrack Composed by Robert Euvino
Copy of Stronghold Crusader HD on Steam – Already own it on Steam? Gift it to a friend!
You can pre-order Stronghold Crusader 2 by clicking here.
Source: www.strongholdkingdoms.com