Are you one of the 151 lucky players to win the Global Conflict 2 launch week giveaway? As the floodgates opened to our newest game world last week YOU stormed our Facebook page in search of riches from our raffle giveaway! As promised we have selected 151 lucky players at random, who will soon be showered with Card Packs and Premium Tokens!
Congratulations from Firefly to the winning players!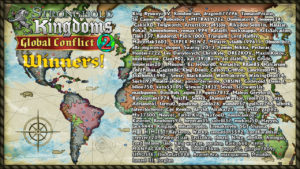 The above players have already been given the following raffle prizes:
10 Random Card Packs
5 Super Random Packs
5 Ultimate Random Packs
1 Premium Token (30 Day)
Just to spice things up we have also decided to give eight of our winners an extra Ultimate Random Card Pack!
The names of our 'chosen ones' can be found below:
felipeperuibe10, Zircron, sapuxx, rasimgungor, alexis.thomas, Putek47, Stronghold_King, TIGR-SS
Please Note: The above prizes have been manually distributed by Firefly staff to each player's Kingdoms account. There is no specific offer code involved in this giveaway.
Didn't win? Sign up to the Firefly Bulletin and be the first to hear about upcoming promotions and Stronghold Kingdoms giveaways!
Source: www.strongholdkingdoms.com