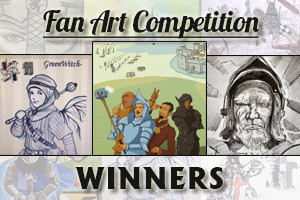 Congrats to lordsatyros, a2katb and Greenwitch! Each can choose between a Firefly Studios game on Steam or Stronghold Kingdoms booster pack.
Nobody likes losing, however recent Stronghold Crusader 2 tournaments have taught us (the hard way!) that the Firefly community is filled with skilled warriors. If our fan art competition is anything to go by, it would seem that you're all also secret artists!
Celebrating the launch of the Firefly Studios Instagram, we asked you to send us your very own Firefly fan art and since then we've received heaps of amazing artwork. A huge thanks goes out to all who submitted their sketches, photoshops, drawings and paintings! Each focused on a particular part of the Stronghold universe, with a few Space Colony contributions too, adding unique character and individual style to popular characters and units.
Selecting three winners was no easy feat! Each displayed a love for its respective game, historical art styles or just made us smile! In what ended up being a close vote among Firefly team members, we're proud to present the winners of our first official fan art competition!
Winners
Congrats to lordsatyros, a2katb and Greenwitch!
The winners will be contacted by e-mail and allowed to choose their prize from the following list of Firefly Studios games: Stronghold HD, Stronghold Crusader HD, Space Colony: Steam Edition, Stronghold Crusader 2: Special Edition, all Crusader 2 DLCs or a Stronghold Kingdoms Starter Pack. They can redeem these either on Steam or, in the case of the Kingdoms Starter Pack, through the client version of the game if they wish.
In the next few weeks we'll be featuring our favorite submissions on the Firefly Studios Instagram with full credits given to each artist. Follow us to see YOUR artwork immortalized (Unless Instagram goes bust… In which case we'll post them on our website).
Got more Firelfy fan art? Post it to Instagram using the hashtag #fireflystudios and we'll share it!
Source: www.strongholdkingdoms.com