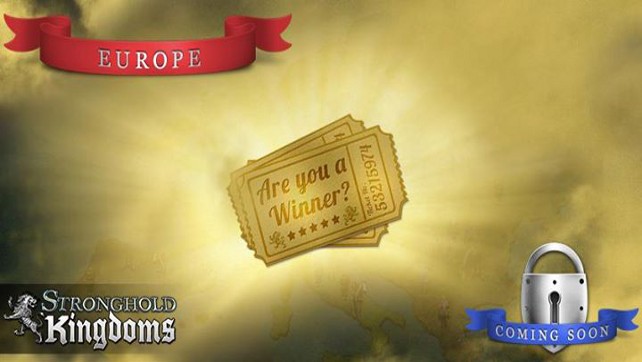 Winners of world launch competition on Facebook have now been revealed!
Thanks to your amazing response to our 'Europe' world launch competition the whole world now knows that Europe is coming! With just one day to go before the opening of the new world anticipation is high as ever, with players already preparing their strategies, tactics and alliances. To give you a helping hand in crushing your enemies and taking control of Europe, two weeks ago we offered you the chance to win some fantastic in-game prizes in our Europe World Giveaway. Earlier today we picked 60 players completely at random, from a list of those who Liked, Shared and Commented on our Facebook post. Thereby deciding the winners of our competition… Congratulations to everyone listed below, you are our lucky Lords and Ladies!
Winners
Plemkinja, LordOSirideain, 7steven, v-nomous, Croat232, Fterolakas, MaestroSartori, hollinger54, PerJunior, Danni56, Gytisv1, Mr_Operator, WeskerA, Lyanna, Ugogo, RexTheSlayer, Beelzeeboss, EVLDV8, SwagOverLord, Macciavelli1, Alfida, GrandLordX, HAWK0828, LordKilborn, Rolamon, LukaszLG, Noble Knight, Mitigation446, Test6, Beast_Rage, Valfreja, FuzionMAster, WhiteWolf6417, lt_lucky28, Lord Manitoba, iLoginMo, crazyhead3342, Catbomb, ScottishCyclopes, Bloodmoon420, Ulrich Von Doom, Alopexdog, Killwize, Eldarwen, TarrasqueAltor, mikrostorm, GolLd3nN, SandstormCZ, De Pursey, Oafchunk, brittanydawn4, TheWhiteCatXIII, anitolfa, xXQuetzalitoXx, MasteChefPL, lenis0012, Legal Maniac, Aftaminas, vNedlog, Rosjan69
Each of the above players will receive the following in-game prizes:
• 10 Random Card Packs
• 5 Super Random Packs
• 5 Ultimate Random Packs
• 1 Premium Token (30 Day)
Release Date
'Europe' will launch on Thursday, February 13th at 3:00pm GMT, bringing 33 European nations together in one giant and epic battlefield. All 197 counties will be open from the start of Europe, if you have a favourite spot make sure you're the first in!