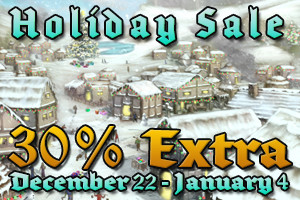 Bolster your Kingdoms deck and strengthen castle defenses with extra Crowns for all during the holiday period
As you do battle across the snowy tundra that is Stronghold Kingdoms and vie for your position at the top of the Global Conflict leaderboards don't forget to make the most of your coin with our Holiday Sale!
Expand your deck of strategy cards, raise those castle defenses and fill your armory to the brim by taking advantage of the 30% extra Crowns all players now receive on Crown bundles.
All purchases made between now and 18:00 GMT on January 4th 2016 will be topped up with 30% extra Crowns. Secure your place on the political and military landscape of Global Conflict, Europe 3 or your favorite game world. Turn the tide of battle and upset the balance of power! Spend these Crowns wisely and the Holiday Sale could give your Faction a vital advantage, with the extra power needed to dominate sworn enemies and settle old scores…
Please Note: This offer applies to all payment methods, Crown bundles and includes Crown Gifting.
Happy Holidays!
Source: www.strongholdkingdoms.com