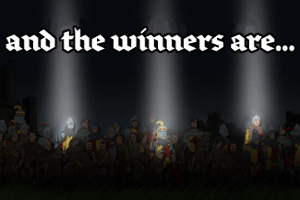 50 Players have been chosen to win fantastic prizes!
In a Steam Review event of epic proportions, you have generously shared your thoughts and feedback on Stronghold Kingdoms with us and the Steam community by posting informative, comprehensive and constructive reviews. We have noted down your wishes, concerns and favourite aspects of the game, such as your appreciation for the game's unique style of giving political control solely into players' hand and the large amounts of explorable contents and mechanisms.
Of the several hundred reviews you have posted during the last week, we have picked 50 of the most insightful, helpful and engaging reviews to win a large bundle of card packs and Premium Tokens:
arcad029, Auroran, Betrisher, wawtafa, SultanAbdullah, bjmiller3121, Hiddensoul, Black_luffy, Cur5e, DatzhioCtm, fchrizz, Dem1God, Gregory of Ireland, homerozz, Juris931, Keraiz, Lord Millerin, Lost_Ottoman, mathew879, meu02136, .WRF, Micholon, PrinceD, Rarrog, Journal of evil, Savire, Cinnamonboffa, Statski Sovetnik, TSoF, Nightmare320, XanoXL, Yuppies, nr1stunner, Sir But I, WIGWULF, XxEinherjerxX, XxMalachixX, Kopcheniy, Podvarak, oguzkaan38, TBelite, Santonio17, Pedro_Silentio, P0w3r, Kaer, LordDark-2011, StupidStrongholder, JE98, Orainon, Aytech
Congratulations to all winners and many thanks to everyone who has participated in this special kind of Kingdoms Giveaway! Armed with an arsenal of suggestions and incentives for us to incorporate into Kingdoms, we will do our best to make changes that act on your feedback and improve on the aspects that you already love. If you have not had the chance to give us your feedback, just post them in the official Stronghold Kingdoms forum or leave us a message on Facebook or Twitter.
Source: www.strongholdkingdoms.com
The admin would like to include the following great game reviews as honorable mentions: DavidSpy and WRP_Beater.