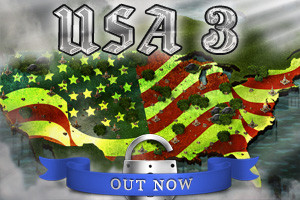 150 lucky players win in-game prizes as USA 3 opens its gates to the Kingdoms community!
As the first ships are seen coming over the horizon our first explorers set foot on the newest North American continent, looking to establish a long-lasting home for themselves on the prairies of 'USA 3′.
This alternate reality map of the United States offers a total of 11 Kingdoms, each with a throne just waiting to be conquered by brave souls such as you my Lord. Erect a stronghold near your home town, forge unbreakable alliances with neighboring Lords and set out to take control of this new feudal United States!
Competition Winners
To celebrate the launch, we have picked the winners of our USA 3 Giveaway. Our thanks goes out to everyone who helped spread the word of USA 3 and congratulations to the 150 lucky winners:
Valemont9, GabiMiha, MrWackoTaco, Lexonit, intex171823, _KingMaker_, injeopardy, i3loodwolf, pappy79, GenericNPC, Kasper3380, cerber487, Halfon, SEMPER FIDELIS, Wacky, RovenKursk, jblanco79, dark550, dv8r, juluxdxd123, Kouya, Vigmundr, parme1, Grail420 , BLaCK-NeKR, Tranquill, WPCom, JustGoNow,MarcinG102, MadLife IV, Kralj Luka, Yoann.fr, bookreader54321, Icesickle1, vony, Lurksalot, Drak Aradonus, Wrain, JazzyRayGun, NBK_Nicky, Kaeloone, leekai, Emir Emin, AlexandruMacedon, Black_Ops0, XxMalachixX, Surion, Damanpeach, GUSMF, pruff1313, DiogoSilvestre, Lady Estella, Supahprawn, SquashEm, DontBeaWuss, Cptn_Jack-Sparrow, Piximae, Aliyourush, Lyanna, Clement34, FwillFrost, Scott414, Trickthat, Senatortruth, XXVVCrazyVVXX, Cooll Zack, dakishineaetara, THE-SEEKER, Mosryp, Baron od Uloga, Donna53, Deepsixer, bflores3333, Bal9907, m0n0chromatic, Lady Christiane, Beast1333, SOHAIB1, Akihiro25, gorkem38, KingOfKings01, electric.avenue, gonzo-der-erste, †PSyChO†, lefflerberndt, ClaudeM, Schwobo, Jessi2288, KommandantTester, Dinkelkeks, AsDaLoN, Oguzbeyi, Oliver Zerspalter, Garth0r, Magistr I, Veroth, Dominikto33, Humbol00, zloty147, _Czarny_Baron_, Jagaimo, ezzia, mati23452, Fevencil, maczan56, HubiZG, LFCkonriqe, Gescape, zielu1239, Rysiu1, ksiaze_Adam_Wampir, aspen39, NEW OTTO, MaqeNNa Flame, yazark94, aushmee, isot2002, LorD_DeatH, lorderman, VictarionGreyjoyy, ensacr, repla800, serhankasar, cerezpolitikasi, Be2N, mangaphile, LeXel19, lexzzarre348, BALTAZ, jul2245, Hiddensoul, vinasia, lucascarb99, ManAntom, sinon641, Denalions, Traya, Davidfab, josecarrasco, erpapi2, alvarojoselopez, VIRGINIO, javier967, mitzu169, rosi1965, H U R T S, Fulmine7789, Zircron, CougarGames
The above players will soon each receive the following prizes, added direct to their Stronghold Kingdoms account:
10 Random Card Packs
5 Super Random Packs
5 Ultimate Random Packs
1 Premium Token (30 Day)
Settle on this new virgin world, raise your humble town to an all-powerful empire, smash your enemies, march on the throne and claim your rightful place atop it!
Source: www.strongholdkingdoms.com